Quality, Service, Value - since 1977
Phones for communicators & collectors
If you need phone cords, CLICK. Huge selection, top quality, fast FREE shipping.
1A2 Phone Systems
(page #2)
1A2 Key Service Units
551 KSU
The Western Electric 551 KSU had a capacity of four lines. The first version (#551B, at ight) had a metal cabinet with a hinged door. The second generation (551C) was plastic or fiberglass with a removable cover. Because of its size and shape, the 551 was commonly referred to as the "shoebox."
​
CLICK for wiring diagram
ITT 601 KSU
The ITT 601 KSU has a capacity of 5 lines and 10 phones. Its size and shape are similar to the Western Electric 551, and both are called "shoeboxes."

It had a major innovation over the 551 with an interrupter that was solid-state, instead of motorized. Unlike the 551, it had space for a dial-selective intercom system. The 551 could hold only a manual intercom which used buttons to activate buzzers.

CLICK for instructions.
501 KSU
This may have been the most popular 1A2 KSU. It could handle up to six lines. Nearly identical models were made by Western Electric, ITT and Stromberg-Carlson. Different versions used internal or external power supplies, and could be wall-mounted or stand on the floor.
512 KSU
The 512 KSU could handle up to 13 lines, and incorporated a 584-type card mounting apparatus. Similar models were made by Western Electric, ITT and Stromberg-Carlson.
584C panel
The 584C (and earlier versions) is not a KSU, but can become one when combined with a power supply and punchdown blocks. It's a "card panel" or "card strip" or "card cage" which can hold up to 13 1A2 line cards, and many panels can be used together to build a huge key system. It is designed to be mounted in a standard 23-inch-wide telecom rack, or mounting bracket. Connections are made via 25-pair Amphenol-type cables. An interrupter is mounted on one end to control the switching on and off of lights and bells. It was used in the 512KSU.
ITT 36A KSU
The ITT 36A KSU was an advanced 1A2 system with capacity of 12 lines and 36 phones. It could be expanded to handle up to 20 lines or to 54 phones. The system was notable for providing two or four private intercom paths. Call Announcing with handsfree answerback was provided with optional equipment.
ITT 76A KSU
The ITT 76A was an advanced 1A2 KSU made in three different versions with capacities of:
7 lines, 18 phones, 2 intercom links

14 lines, 36 phones, 3 intercom links

20 lines, 54 phones, 4 intercom links
Each intercom link appeared under a specific button on the phones. Intercom calls could be announced with tone ringing, or call announcing with handsfree answerback. Handsfree intercom calls were limited to 16 seconds or 32 seconds. Longer conversations used the handset.
25-pair cable color codes
NOTES:
(1) Although the chart shows the color "grey," in the phone business "slate" is more commonly used to avoid having the same abbreviations for green and grey/gray.
(2)The color illustration shows "solid" color wires. It is more common to have striped wires. The first one would be white with a blue stripe, mated with a blue wire that has a white stripe, etc.
ITT 1978 Key Telephone System Guide has valuable info for the vintage telecom fan. CLICK
Stromberg-Carlson's 1979 Key System Catalog has more about 1A2 key systems. CLICK
Bell Systems manuals are packed with help, from 1980.
CLICK for Volume 1
ITT-Kellogg 1958 1A1 catalog, pre-1A2, from when Barney installed phones. CLICK
ITT-Kellogg 1959 catalog shows 2-line & 3-line phones in 10 colors. Left-click photo to enlarge.
ITT 1978 Telephone Catalog includes consumer and business telecom products. CLICK
2564 or 2565?
The 564 and 2564 are basic 6-button 1A2 key phones. The 565 and 2565 have additional wiring for connecting an external speakerphone for handsfree conversations.
Line Card Types
model #--function/notes--brand
400B line card basic WECo
400C line card basic WECo
400D line card basic WECo, ITT
400E line card MOH ITT
400F line card WECo
400G line card LED WECo
400H line card slim, LED WECo
401 manual intercom WECo, ITT
401PA paging adapter ITT
403A MOH feeds up to 6 lines ITT
405 privacy for 2 lines ITT
414A private line ringdown WECo, ITT
415A automatic tie line ITT
416A station line circuit for remote phone WECo, ITT
418A short range private line WECo
419A private line 8-inch, 80 contact WECo
416A private line WECo
4200 MOH SanBar
1A2 power supplies
The power supply for a 1A2 phone system can be located in or near the Key Service Unit. It converts the incoming 110 volts AC into various AC and DC voltages which the phone system needs.
400D line card schematic.
Left-click on image to enlarge.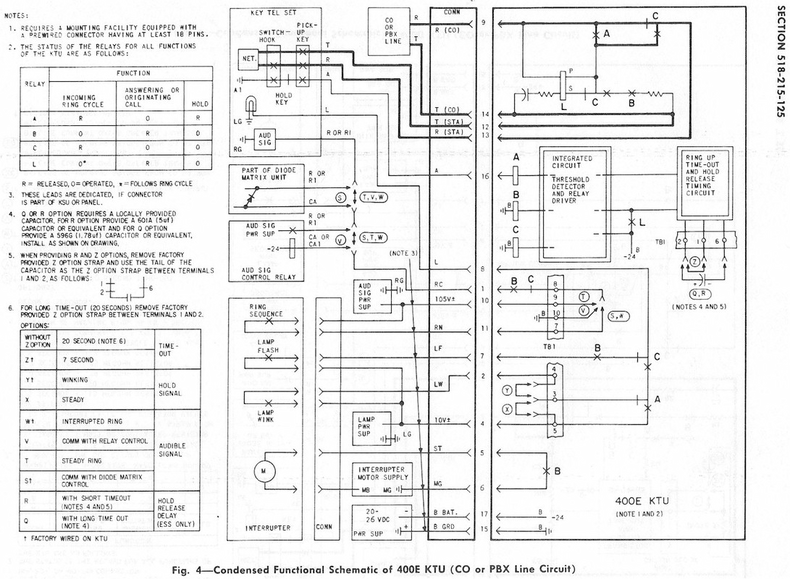 400E line card schematic.
Left-click on image to enlarge.
4200A line card schematic.
Left-click on image to enlarge.
501 KSU schematic.
Left-click on image to enlarge.